Winter is here! Sky promotes Game of Thrones season 7 with White Walker stunt
Londoners going about their business yesterday were given a chill by a troop of invading White Walkers. Thankfully, they were part of a stunt by Taylor Herring to promote the season premiere of Game of Thrones – and not out for blood!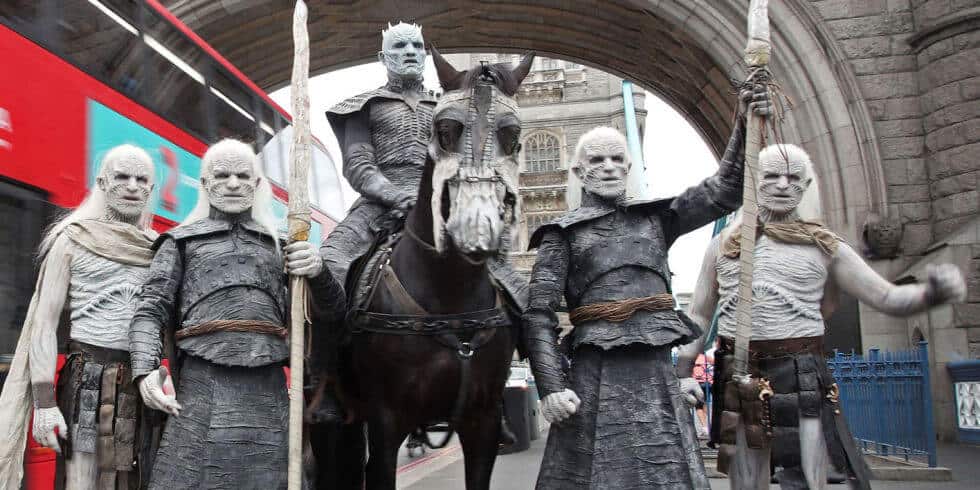 The Night King and his troop of White Walkers were first spotted at Hadrian's Wall, before descending on Oxford Circus, Tower Bridge, The Tower of London and Buckingham Palace.
Eight week build
According to Sky, it took eight weeks to build the White Walker costumes and four hours for the five actors playing the Night King and White Walkers to create their look with the help of prosthetics, body paint artists and stylists. The stunt was activated to remind audiences that Sky Atlantic is the place to catch the 17 July premiere of Season 7 in the UK.
'White Walkers' just rode into central London on horseback to promote new Game of Thrones season. #Gameofthrones #Season7 #Whitewalkers #HBO pic.twitter.com/EMJ1XTPwTq

— Business Insider UK (@BIUK) July 12, 2017
Zai Bennett, Sky's director of programmes, said: "It may be summer in the UK, but after six seasons, winter has finally arrived in Westeros. With Jon Snow crowned King in the North, Cersei on the Iron Throne, Daenerys Targaryen and her colossal armada crossing the seven seas to Westeros and the Night King moving south at the helm of a truly terrifying army of the dead, the greatest battles are truly ahead of us. With this in mind it seemed fitting to unleash our very own troop of White Walkers on locations across the UK."
Giant skull
Sketch Events created a similar PR stunt for Taylor Herring to celebrate the premiere of the third season of Game of Thrones on Blinkbox. Sketch produced a giant dragon skull that was "found" on the beach in Charmouth in Dorset before touring London – find out more here.